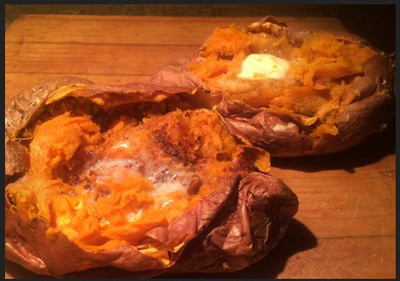 I heard a story one time, I don't know if it's true. Seems it was after the Civil War in America, down in the South where the slaves were now free but still living tough, segregated lives.
So a white woman had an African American woman working for her as her "maid". And somehow the African American women had her 2 kids there. There was something to do with sweet potatoes, very popular in the southern states. And as the story goes, the white woman was serving some sweet potatoes to the African American woman and her 2 kids. So the maid was all thankful and humbly respectful that she was being served sweet potatoes for herself and her kids.
Then the white woman passed on some butter that the maid and her two kids could put on their sweet potatoes. But the black maid respectfully declined that offer of butter for their sweet potatoes. The white woman was surprised and puzzled.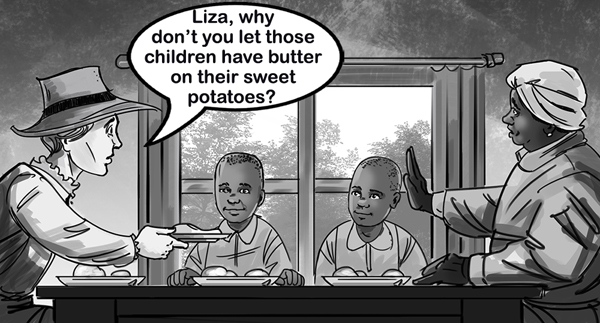 "Liza" she said, "why don't you let those children have butter on their sweet potatoes?"

"No ma'am", Liza said, "I don't want my 'chillens ever know what sweet potatoes with butter tastes like."
End of story. What in the world could that mean? As I understand it, it's like this. Liza and her children lived in grinding poverty. They were accustomed to doing without. But here was this rare, strange situation where they were eating sweet potatoes and maybe even getting butter on it!
But Liza knew that it was like so rare a situation, so special, that it wasn't something that was likely to happen again. As it was already, her kids had never even known what the delicious taste of sweet potatoes with butter was like. But if they did, it would only be for that time. And afterwards they would always remember it and long to have it again. But Liza would never be able to supply something like that for her kids; it was just beyond her.
So that's why Liza didn't want her kids to even taste what it was like to have butter on their sweet potatoes. She felt it was better for them to never have even tasted such heavenly things than to have tasted and then to almost certainly never be able to have that again.
Kind of deep, when you think of it. There are times in life, or for some lives, when the Lord in His wisdom seems to withhold something that is prayed for and desired. We don't know why and we long for an answer. But it doesn't come.
And yet sometimes for one reason or the other, we have a brief taste of those "sweet potatoes with butter", like Liza was offered to her kids. And then for reasons we usually don't know, those heavenly tastes and experiences are not sustained and we go back to our lives we live.
Was Liza right to refuse to let her kids to even taste the sweet potatoes with butter? I personally don't know. We are told, "With food and clothing let us be content" (I Timothy 6:8). Usually we aren't content with only food and clothing. Most of us want more than that. And in our times, almost everyone has quite a lot more than food and clothing.
But for the Lord's disciples, especially for those who've become His seasoned soldiers, He sometimes spoils us. But at other times He can keep us on a rather short leash and even lean rations, if He sees fit. We don't always understand why. "The secret things belong to the Lord our God" (Deuteronomy 29:29).
Recently I had some "sweet potatoes with butter". It was wonderful. But it was only for a short while. Was it good that it happened? Maybe I should have just looked at it like Liza did, just not even have let that happen since it seems it was something that could only be for a very short time. But it was really good while it lasted.
"I have learned in whatsoever state I am in, therewith to be content" (Philipians 4:11). "If any man will come after Me, let him deny himself and take up his cross daily and follow me. For whosoever will save his life shall lose it, but whosoever shall lose his life for My sake, the same shall save it" (Luke 9:23 & 24). "And everyone that hath forsaken house or brethren or sister, or father or mother  or wife or children or lands for My sake shall receive a hundred fold in this lifetime, and in the world to come, eternal life". (Mark 10: 29 & 30)
Have you got sweet potatoes with butter in your life that you've tasted but then it's gone? It's tough. It's like that for me right now. Thanks for your prayers about this. God bless you.