In 2003 I moved abroad again after of living in Austin, Texas for 2½ years. I'd been living outside the US for most of my adult life

before

that and was in need of a break, as well as time with my family. But the Lord led me again to "go into all the world" for Him, this time to far off Indonesia.
I wanted to stay in contact with friends and it worked out that I was able to start a series of newsletters which I would send to friends back in the States and elsewhere. I'll include here the first Fields newsletter I did, which was completed shortly before I left for Indonesia in early 2003.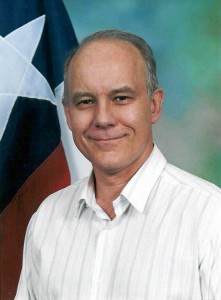 Greetings and God bless you. My name is Mark McMillion and I'm preparing to move abroad after being in Austin for the last 2½ years. It's certainly been a wonderful time here in many ways, with new friends and new experiences. But over recent months I have been feeling the Lord's tug on my heart to move back to the way of life that He called me to live for around 30 years, before I came back to Texas in 2000.
So I wanted to put this newsletter together for some of you who have gotten to know me here, to let you know a little more about my hopes and plans. Also I'll add a few pictures from years past when I was living outside the US and was involved in full time Christian service. My hope is that this newsletter will be the beginning of something I can continue to send to you from my new field, in order to keep in contact with those of you who I have gotten to know and grow close to while here
I thought to call this newsletter "Fields". Jesus used this analogy several times, saying in one place, "…the field is the world…". He sends us to sow and share freely the seed of the love and the gospel of God. I'll add some pictures here next of some of the foreign fields He's allowed me to go and do the work of a sower of the Word over the years.
FIELDS OF THE PAST
I don't have many pictures of my early years. But it was often spent on the streets in personal talks with other young people in places like Hollywood Boulevard and Greenwich Village, or in similar places in London, Amsterdam or Copenhagen.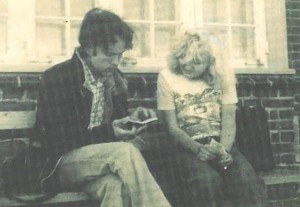 Here's a photo from 1976 when I was talking with a young girl in a fishing village in northwest Denmark. Yes, that's me with the Bible, she has a gospel tract in hand, and I have hair too!
In 1986 I moved from Europe to central India, along with my sons Andrew, JJ and Ariel.  During this time I home schooled the boys as well as some children of other friends we knew and worked with in the area. We spent the next year and a half there in a variety of ways. At times we went door to door to meet people and present Christian material.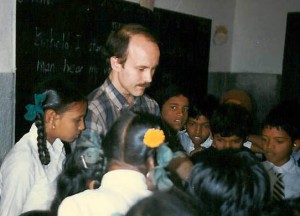 Or we would use the boys' musical skills in small performances or when we went to schools like this one in Andra Pradesh in the next picture. It was all not without incident. But it might come as a surprise to some how much of a blessed time this was and how much we felt the Lord's favor and protection.
At the end of this time, doors began to close for us there. We moved back, somewhat sadly, to Scandinavia, the area my former wife is from. Unbeknownst to us, the Lord all the while was working to have us back in Europe just as the doors to Eastern Europe would open at the fall of Communism in 1989. Central and Eastern Europe had been our vision and calling in the late 70's and early 80's and it was with great joy we were able to go back there again. From 1990 to 1998 almost my full time was spent there and in Russia.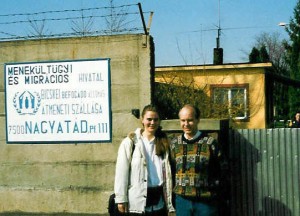 In this picture I'm at the Nagyatad refugee camp in southern Hungary in 1994. With me is a Christian sister, Rebecca. She is from Sarajevo in Bosnia. The conflict in the region brought 1000's of refugees pouring over the borders and we daily visited this abandoned Russian military camp, full of Bosnians of an Islamic background.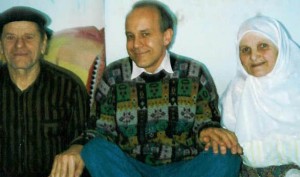 The couple with me in this picture were considered the elders of the camp. The woman was an Islamic religious woman and much respected. In the camp there had been a refugee who was deeply troubled emotionally and spiritually and no one could help her. Through our council and prayers the woman was delivered. So this Muslim matriarch recognized God's power working through us and told the ones in the camp that we should be accepted there.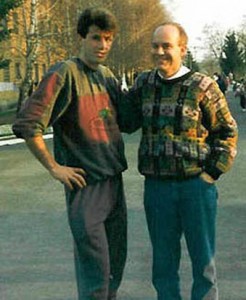 One day Rebecca and I talked with a dozen young Bosnia men. They'd been in the Bosnian army but they told us they'd mostly been roving bands of undisciplined irregulars, killing and being killed. I prayed desperately to know what to say to these men who'd recently been through such trauma and had witnessed the death of their wives and children. One of them is in the picture at the right.
With Rebecca translating, the Lord led me to talk to them about forgiveness. My own time of divorce and losing my family came to mind. It was not the same as they had experienced. But it was when I needed to call out to God to help me not allow bitterness and revenge to take hold of my heart. They listened and responded as we opened our lives to each other. It was a few hours of heart-to-heart talk among people who had been deeply wounded and needed to find a way out. I've prayed that the seed sown there and elsewhere in that region will grow to a new generation of people who will break the cycle of hatred and war.
FIELDS OF THE FUTURE
Last September I visited some Christian friends in Indonesia and they've encouraged me to help them in the work they do.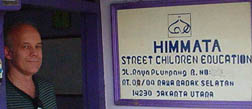 While I was there we visited this school in Jakarta for street children that they help regularly. The students are not orphans but their parents are too poor to provide an education for them. That day we delivered crates of pasta, sacks of rice and several used computers which businesses had given us to pass on to poorer schools like these.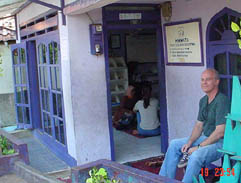 It's a predominately Muslim country of 240 million people but there is also a large minority of Christians. I had several meaningful evenings of Bible study with people there, similar to ones I've had here in Austin with some of you.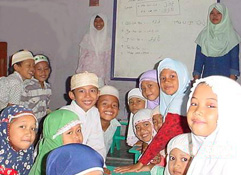 This is the country I feel the Lord is leading me to, to be a help to the ones I know there and to return, God helping me, to a life of more fulltime Christian service.
*********************************************************************************************************
I stayed in Indonesia for nearly 5 years and it was an incredible, blessed experience. In future posts on the blog here I will be adding more of these Fields newsletters that were written while I was there.