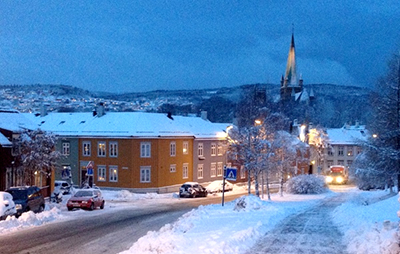 My former wife is from Norway and when we'd been married less than a year, we were living in Trondheim, Norway. In the winter, the sun comes up at 10 in the morning and goes down at 2 in the afternoon, whereas down south in Oslo it comes up at 9 and goes down at 3.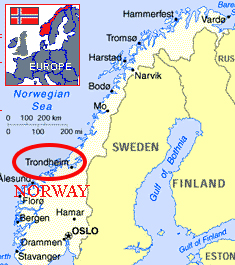 It's wonderful to be newly married and expecting your first child. We had a little base in Trondheim and were witnessing to people about the Lord, especially the young people. But frankly, it was a rather rough time for us both physically and even financially. On the other hand, there were also some amazing spiritual times there where the Lord was really working.
Some friends of ours in Oslo had led a young man to the Lord who came from a very rough "street culture" background. He'd been a drug addict but through salvation he'd become "a new creature in Christ Jesus" (II Corinthians 5:17). He was still a teenager, a big Norwegian guy. But he had a meek and changed spirit and we were glad to have him to come work with us in Trondheim as we tried to strengthen him in his new life for the Lord.
But a life of full time discipleship is not easy and we didn't have it easy then. Not everyone is cut out for a Christian missionary lifestyle and it was becoming evident to us that, as sweet and transformed as our new friend was, he was having a very difficult time to "take up his cross daily". (Luke 9:23)
At length my wife and I really prayed as we just felt this wasn't working and the trajectory of this young man's life was not moving towards full time Christian discipleship. But he was a nice guy, really saved and thankful for his salvation. At times back in those days, it was a temptation to look down on someone if they weren't ready and able to serve the Lord full time. There had been many from those days who did become full time disciples and missionaries who went on for the next decades to serve the Lord at the ends of the earth. So we sometimes were tempted to look down on ones who didn't make that standard, Lord forgives us.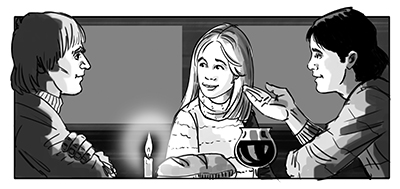 But in this case, after my former wife and I prayed together, the Lord led us to have personal communion with this dear young man, encouraging him that perhaps full time Christian discipleship was not what was for him. We had a sweet time of fellowship with him, encouraging him in the Lord and sending him back south to Oslo before the weekend.
Around Monday I made our regular call to friends in Oslo. They asked me, "Do you remember Bjørn?" I said, "Of course, he just left here a few days ago." So they said, "Well he's gone to be with the Lord".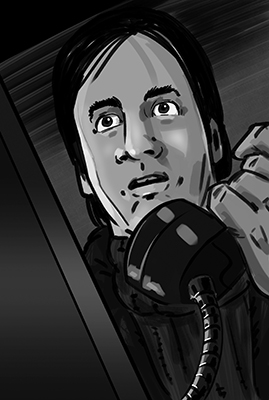 I was really, really shocked. My friends went on to tell me that he'd gone down to Oslo and then on to Bergen on the Norwegian west coast. He stayed with his uncle's family and the next day after he got there, didn't come down to breakfast. They went up to see how he was and found him dead. Evidently the drugs that he'd been doing before he got saved caused an air bubble to enter into his blood stream and that night it had lodged in his brain, taking his life.
My former wife and I were in deep shock on so many levels. I was not yet 26 and my wife was 22. Death was not something we experienced much, especially with someone we'd just been very close to a few days before.
But we were so glad that the Lord had led us in prayer to be gentle with this young man, not to condemn him for his weaknesses but to have a time of communion with him, something very unusual for us at that time, and to send him on his way with love when we might have condemned him for his weaknesses.
We just felt very strongly that the Lord had taken him home to be with Him before he might be tempted to return to his former lifestyle that he'd been delivered from. He'd been saved from a very hellish existence on the streets of Oslo and the Lord saw fit to take him home to be with Him at that point, when he'd had a victorious life.
It was an exceedingly sobering experience to be so near to someone who was a few days away from their graduation to heaven. It helped us, during our time there, to keep the heavenly vision and to stay true to our callings at a time when in many ways we were "troubled on every side". (II Corinthians 7:4)
And I just thought about all this tonight as one of the so many experiences I've had in a life as a missionary and disciple of the Lord. It was the direct leading of the Lord to have communion with this precious young man and to send him on his way with encouragement, rather than condemnation, that so touched us as the Lord's mercy on us, that we somehow were able to show His mercy towards this young man, which we might not have done without prayer.