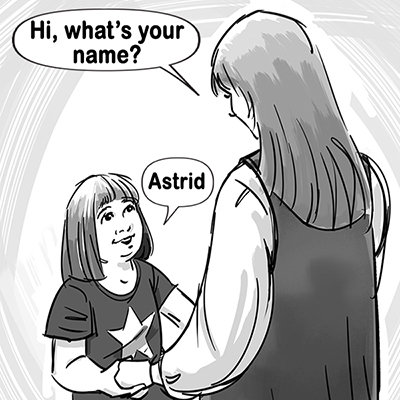 As I wrote in the first post of this series, the time my former wife and I spent in Trondheim, Norway back in the mid 70's was actually somewhat rough. It's no reflection against Trondheim; it's an interesting place with an interesting history. But for us, it was really kind of a "Gethsemane", ha!
But besides the amazing experience we had with the young man who went to be with the Lord a few days after leaving our fellowship, another experience was very strong in our lives, one that mainly had to do with my former wife.
She was, and is, a gifted soul winner and personal witness. At this time she was well along with her pregnancy of our first son and so she was often staying back in our meager little flat during the day. But her zeal for souls was such that she somehow struck up a contact with a young little girl in our neighborhood.
This little girl was around 8 years old and had virtually no friends. Her mom was single and the little girl herself was not really "pretty" but was sort of plain and also overweight. So she ended up getting teased a lot by kids her age and it was really weighing heavily on this little girl's life. Her mom was at work all day and this little girl was actually at a severe crisis point in her life.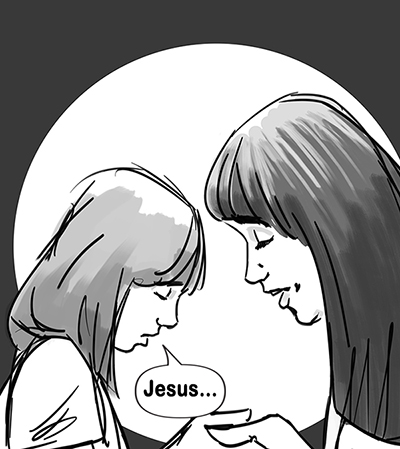 Well, my former wife ended up praying with this precious little girl to receive Jesus and the new life in Him that He could give. She told me about it with joy when I came home from a day of witnessing and taking care of business things on the streets of Trondheim.
Some weeks later this little girl's mother called on us. Basically she said, "I don't know what you did but I want to thank you". She went on to say that her little girl had become totally different from before, with more confidence and strength, able to stand up to her bullying friends and just had really become "a new creature in Christ Jesus" (II Corinthians 5:17). This of course brought us immense joy as we felt we hadn't been seeing a lot of fruit in our efforts to evangelize Trondheim during that winter.
And it was a real eye-opener for me. At that time my focus was still on the hippy generation my former wife and I had come out of. But here was a little 8 year old who was in the biggest crisis of her life, her light almost snuffled out through bullying and just being alone so much. So salvation had come at the time she needed it most, even though she was younger than I figured folks needed salvation… a lesson I hope I never forget.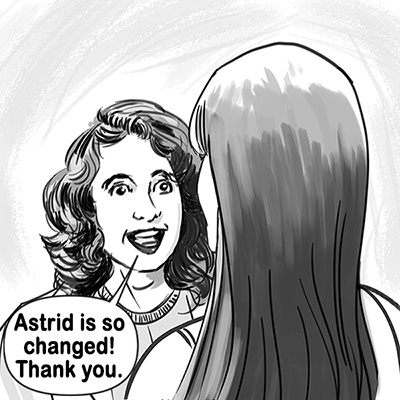 It's rather like the verse from Zachariah, "despise not the day of small things". (Zechariah 4:10) That's certainly how we looked at our time in Trondheim, as a day of small things. But looking back, the Lord was working and changing lives, even through us in those dry times.
Not long after that we journeyed south and ended up having our first son in Stockholm, Sweden in the spring of '75. But even in that difficult time, He still helped us to bear some fruit, to touch some lives and to help a few people.
And the amazing sequel to all this is that 25 years later I met, in Sao Paulo, Brazil, an American missionary and his Norwegian wife. He'd been led to the Lord in Trondheim by ones we'd left in charge of our fledgling efforts there back in the '70's. He had been a backpacking young American who was met and witnessed to by our friends in Trondheim and had receive the Lord right there on the street. He had gone on to marry a dear Norwegian sister in the Lord I also knew and had since moved to the interior of Brazil to serve the Lord there.
So the ways of the Lord can at times seem strange. But here were at least these three lives that were strongly changed for Him during those months we were there and immediately after, even though for ourselves it was some of the most difficult months of our lives.
It's like that verse, "In due season we shall reap if we faint not."(Galatians 6:9) I can tell you, it sure felt like we fainted a lot back then and we were claiming the verse "he will make a way of escape that you be able to bear it." (I Corinthians 10:13) But all the while He was still using us "in season and out of season" (II Timothy 4:2) and there was "fruit that remained" (John 15:16), even from that difficult time.
Somehow all these things were crossing my mind tonight. Maybe someone needs this, to know "your labor is not in vain in the Lord" (I Corinthians 15:58) and that He will always bring people into our lives who need Him and all that He has bestowed on us. God bless you.