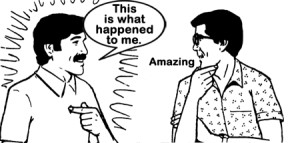 I was in Hyderabad, India in the late 1980's when I got a letter from someone in South America. They'd seen my name and address somewhere and they wrote me to say, "If you are the guy that witnessed to me at the University of California at Berkley in the summer of '71, I just want to say thank you."
I vaguely remembered the incident that he went on to tell me about. The letter said,
"I was listening to some Jesus People guy who was "preaching" to a large crowd on the steps of Berkley campus. He was really preaching hellfire and damnation, telling everyone there that they were all going to hell, getting a lot of hecklers answering back and getting into a big public argument and harangue."

His letter went on,

"You were standing next to me and you looked over and said to me, 'That's not the way to talk about Jesus'. So I said back to you, 'How do you talk about Jesus?'

" So you started showing me Bible verses. One of the first ones you showed me was Matthew 4:19, 'Follow me and I will make you fishers of men.' We had a long talk, you showed me a lots more verses from the Bible and challenged me to drop out and serve the Lord since I was already a Christian."

"I never saw you again but what you told me that afternoon had a profound effect on my life. I took it as from the Lord that I met you and that you shared what you did with me. You gave me the address of some Jesus People in Los Angeles that I could visit and get training from.

What I did was to go back to St. Louis, Missouri, 1500 miles east of Berkeley, California; I got my things together and then hitch-hiked back to California. As it turned out, I ended up knocking on the door of that Jesus People place around 1:30 in the morning, a week or so later. Wonderfully, they opened the door and let me in at that late hour. And a few hours later they got kicked out of the place by the owner of the building. But I stayed with them, got training as a disciple and missionary and now I've been living here in Colombia as a missionary with my wife and 5 kids. So I just want to say thank you for talking to me that afternoon."
Needless to say, that was quiet an inspiration and even a shock to get that letter back then. I did barely remember that event of talking to him. So it was wonderful to know that my witnessing that afternoon in Berkley so many years earlier had resulted in a person dropping out to dedicate their life to serving God on the foreign field.
But also it was like a glimpse into the spiritual realm. Many people who witness and stand up for the Lord often don't get to see the results of their faithfulness. I personally don't think of myself as a really great soul winner or "fisher of men". In my many experiences, I've had relatively numerous times when I've led someone to receive Christ and I've had a few times like this where that person went on to dedicate their lives to full time Christian service. But I know of others who I think of as being much more fruitful and used in these things than I think I've been.
But this all made me think, "How many people are there who we'll never see again but they go away from meeting us with their lives totally changed?" We don't always see the effect we have on them. We're just faithful to share the Lord's love and truth with them. But to them, it was like God was directly using us to speak to them and they knew it. They knew God had brought us along to speak to them that day and they took it as from Him.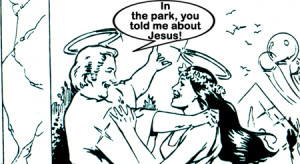 There's another guy I can tell you about who I met long ago. I'll meet him in heaven and he'll probably be surprised to see me there. During my first semester at the University of Texas back in the late 60's, a young Christian was going door to door in my dormitory, telling the other students about the Lord. I invited him in, licking my chops like the wolf I was at that time.
I mocked him, I scoffed, and I literally rolled on the floor with laughter at what he said. He was unmoved, stood his ground and kept the faith. But his witness that afternoon change my life. Jesus said, "If I had not come and spoken to them, they had not had sin, but now they have no cloak for their sin." (John 15:22)
I'd never before really been witnessed to by a strong, knowledgeable Christian. But I was that day. I rejected the witness and the Lord then. "Because they receive not the love of the truth, God shall send them strong delusion." (II Thessalonians 2:10 &11) Having rejected the messenger of God, two weeks later I accepted the messenger of Darkness. Drugs like marijuana were just beginning to make an impact on the campus back then and I met a hippy who was connected with the Mafia, from whom I bought my first marijuana. From there on, it was two years of a deadly downward spiral that ended up in the day I told you about in "Lucifer and the White Moths".
Don't ever think your witness is wasted. Most of the time we don't see or know about the results. But the Lord knows about it. "Therefore, my beloved brothers, be steadfast, immovable, always abounding in the work of the Lord, knowing that your labor is not in vain in the Lord." (I Corinthians 15:58)