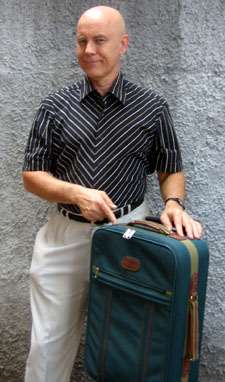 There were so many experiences I had from the time I spent on the mission field which basically were supernatural. The other day I thought of one I included in a newsletter around 2008.
I was living in Ukraine and I planned a trip to Norway. Along the way one of those "God's little miracle" situations happened which is almost possible to overlook if you're not sensitive to the hand of God when He intervenes in a miraculous way. Here's what I put in my newsletter from August of 2008
Just to get from here in Ukraine to Oslo, Norway is no small thing. Flying from here would be extremely expensive. So I found a budget airline that flies from Warsaw, Poland to south of Oslo, Norway. But to get to Warsaw from my city in south east Ukraine was a 700 mile (1200 kilometer) two-nights-and-a-day ride on a bumpity, former USSR train. There was next to no sleep.
After the flight from Warsaw, I landed at the airport about 70 miles south of Oslo, got my small suitcase off the luggage carousel at the airport and found my way to a bus that would take me to Oslo.
Virtually as I was boarding the bus, way out in the airport parking lot, an elderly man quickly came up to me, speaking Polish.  I understood that he thought I'd taken his suitcase. He produced the baggage tag that went with the suitcase and, sure enough, it was his.
I looked real closely because the suitcase I'd brought on the trip was borrowed and it seemed like one that not a lot of folks have. But I did notice that the one I'd brought out of the airport to the bus was somehow newer than the one I brought on the trip. About that time, one of the Polish man's friends came up to us with my suitcase, identical in every way to his except mine was just a little bit older.
What happened was that, when the one I took had come around on the luggage conveyer belt, I saw it and took it. The plane had not been full and it never occurred to me that there could possibly be another bag on the plane that looked the same as mine. It was virtually a miracle that he found me in the airport bus parking lot, just before I was getting on the bus with his suitcase for the ride into Oslo.
I don't care to even think of how much of a hassle it would have been if I'd not been found by that man just seconds before I boarded the bus for the 90 minute drive to Oslo. I suppose something might have eventually worked out if I had needed to phone the airport about it. But in Oslo, one of the most expensive cities in the world, it would have been a nightmare of time and expense.
That's how good things can happen to you when you're praying and others are praying for you. I really thought about all my friends who were praying for me at that time. It was surely just the Lord doing that little miracle to keep me from having to suffer for days from that mix up about the suitcase. Thank the Lord! And thanks to all of you for your continued prayers.
Isn't that amazing? I was seconds away from boarding that bus with the wrong suitcase for the long ride to Oslo. Those folks found me way out in the parking lot at the last moment. Some would wave all this off as a "lucky coincidence". For those of us who know and live for the Lord, we know it was more than that. It was "…the Lord working with them, and confirming His Word with signs following." (Mark 16:20)