I just saw the movie "Noah". I'm glad I went, it was good.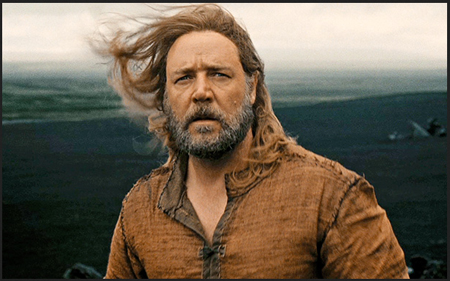 "Oh, Mark, how can you say that!?"
Well, there are a lot of reasons. When I want the pure truth of God's Word, I of course read my Bible and believe the account of Genesis. But I part company with all the strident folk who think that a movie has to be 110% Bible-based before it can have some strong redeeming features. Tell me a movie that's been 100% perfect in the eyes of the guardians of the faith and I'll probably tell you of one that is cheesy, slick and possibly trying so hard to be true to the Scriptures that it ends up being shallow, poorly acted and possibly with some denomination's baggage included in it.
Some Christians remind me of the princess and the pea. She was so refined she felt a pea under the 100 mattresses she slept on. But the Bible says, "To the hungry soul, ever bitter thing is sweet."  (Proverbs 27:7b) Instead of being critical, maybe we should think of the multitudes worldwide who've basically never heard anything of the story of Noah. Most of us would have to admit that there's quite a lot of truth portrayed in this movie which may turn out to be pretty "sweet" to all those "hungry souls". That's who we should be thinking about anyway, not some pea under the mattresses that offends us.
Yes, some parts of the Noah movie use a large amount of "artistic license". Like others have mentioned, it includes things from the book of Enoch, an apocryphal book that delves into fallen angels and quite a lot of deeply spiritual stuff that in several places falls outside the way the Bible presents our world, God and the spiritual world.
But on the other hand, it was just a thrill to see a modern movie try to do justice to the time before the Flood. The very first time I ever read a Bible, a few days after I had nearly died and been carried to hell by the devil, I read the first pages of Genesis and it was the story of Noah that touch my heart.
"And God saw that the wickedness of man was great in the earth. And that every imagination of the thoughts of his heart was only evil continually. And it repented the Lord that He had made man on earth. And it grieved him at His heart."  (Genesis 6: 5 & 6)
When I first read that, I remember how my reaction was that I just felt sorry for God. It certainly wasn't a surprise to me to read what was written there. I knew in myself what a depraved person I'd become and I knew how our world is today, not too far different from the days of Noah.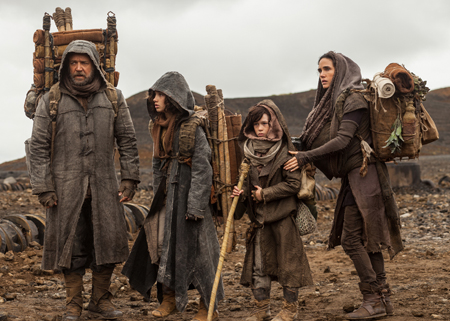 So it was great to see professional movie makers try to do justice to this incredible subject. To see that time depicted as it must have been, to see Noah and his family trying to make their way in that world and to have God, in His special way, to communicate to Noah His intentions, was a very fascinating and fulfilling thing.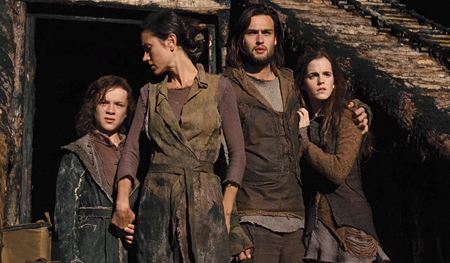 There's so much that could be written about. Yes, the plot has some major parts that are not found in the Bible. But the abiding message of the movie is summed up in a wonderful verse from the New Testament. "He will have judgment without mercy who has showed no mercy. And mercy rejoices against judgment."  (James 2:13) That's the message. Love and mercy when it seems there's every reason for judgment.
Like I've read of the story of Napoleon, when one of his young soldiers had run away from the battle for the second time. He was to be shot but his mother pled with Napoleon for mercy. "He doesn't deserve mercy", Napoleon told her. "Sir," she cried, "If he deserved it, it wouldn't be mercy." So true. In the end, even Noah in the movie had to learn of mercy and love.
So this movie, for all the points that the literalists can quibble about, really has a lot of solid meat from the truths of God in it. Some complain, "Oh it doesn't say God! It says 'the Creator'!"
So what! I've been a disciple of Jesus for over 40 years but I still remember well what it's like to be a stone cold atheist. This movie can do a real work on the unbelievers. Isn't that a good thing? I don't think it's going to stumble any Christians. Or Jews or Muslims for that matter. But it might really make an impression on multitudes of those who are in the darkness of unbelief. Isn't that what we should be thinking about?
Can't we use it as a springboard for witnessing to people? Like I wrote about in the blog post about the movie "Ghost", I was witnessing to a young man 20 years ago in Budapest and at one point, in agreement with something I had said to him, he said, "I know, I know. I saw "Ghost". That movie had witnessed to him and opened his eyes to the spiritual world. I think this movie also can get a lot of people thinking or wondering or just considering the whole thing that they maybe never even heard of before.
In I Corinthians 7:31, Paul said, "And they that use this world as not abusing it…" We need to learn how to use the world but not let it use us. We can use this movie, and the large measure of good and positive truth that is in it, as a springboard to our witness.
LIke someone has said, "Some Christians are so afraid of everything, they don't have nothing!" Some Christians were famous 100 years ago for saying, "We can't use the radio because the Devil uses the radio!" "We can't use the piano because the Devil uses the piano!"  And they often ended up spiritual barren and forgotten as fearful, narrow-minded religious extremists.
God forbid that that should happen to any of us. Go to the movie, enjoy it. "Chose the good and eschew the evil." (I Peter 3:11) And then use it to enhance your witness and tell people about the awesome, just, but also loving and merciful, God of Noah.