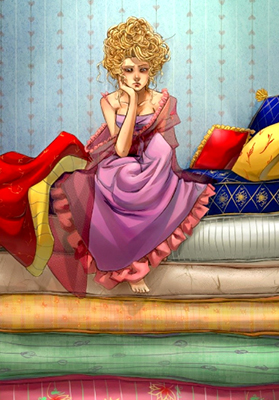 Ever heard the story about the prince who was trying to find a wife? So the story goes, he made a stack of mattresses, 100 tall. Then he put a tiny pea underneath them at the bottom. Next he had a try out for his princess, bringing one candidate after the other to see how she liked the bed. All were thrilled by laying on it till one said she felt something under the mattress. That was the one the prince chose to be his princess, so they say.
Well, I'll tell you, I really don't think that prince was Jesus. Because the Lord's princesses need to be able to take quite a lot more than a little pea under 100 mattresses. But it does seem that many today have the notion that a Christian life is similar like to sleeping on 100 mattresses and being upset by a pea. If you read your Bible, or even the history of people who've lived a life for the Lord, you'll see that personal comfort was most often really pretty far down their list of needs or wants.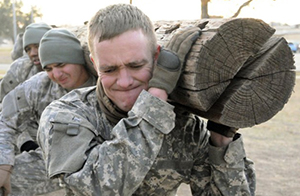 Think about it, what humans will do for people or organizations other than God and His Son, Jesus. We glorify the Special Forces of the military, how they endure incredible hardships and sacrifices to fight foreign wars. We hear of people in Asia dying from overwork, literally dying on the job because they work such long hours, just trying to make money. And rock stars and movie stars often sacrifice everything in the way of morals and their conscience, to "rise to the top" and be famous.
Of course if we turn to modern Christianity, it would be wrong to say that there are just no people like that today with vision and guts to live a life of sacrificial service for God and others. But for probably too many, the idea of really and truly "going the extra mile" (Matthew 5:41), "laying down your life for the brethren" (I John 3:16), and going "out into the highways and hedges to compel them to come in" (Luke 14:23) is just nearly unthinkable.
That's the only kind of Christianity I've ever known and I think the only kind that could have won me to Him: a strong Christianity similar like to the Early Church. Because I grew up surrounded by (I'm sorry to say) shallow, racist, self-righteous nominal Christians and I was deeply unimpressed. When I would engage them in a conversation about the things of God when I was a pre-teen or teenager, they would all wither at the first sign of any need to "contend for the faith." (Jude 1:3)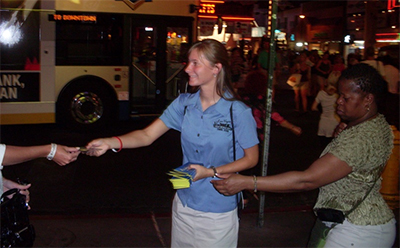 Thankfully I know that Christianity in our times is better about this in many ways compared to how it was where I was, growing up. The Christians who are still left in our times have found they have to do better at being able to defend and explain their faith or they'll just be defeated and destroyed by the kind of person I used to be. I'm so thankful that, back then, I met some serious, committed, even radical young "Jesus People" Christians at a pivotal point in my life. And their lives, sample and knowledge of God's Word won me to Him when no shallow Christianity had been able to do that till then.
But, think about it, where are the real fighters for the Lord in our times? Where are the ones working 12 to 16 hours a day, on the home field or the foreign field, to bring the love and truth of God to the people of our times? People will do it for money, so many millions do. They'll endure incredible hardships in the military and kill people in foreign countries, all with the idea that they're defending their nation 10,000 kilometers away.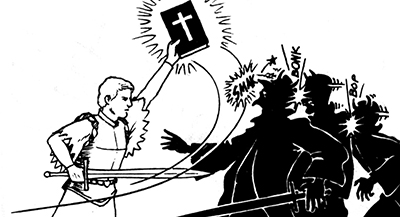 But where are the people who are not hung up on their comforts or the pea under the mattress but are like the people of the Bible or past centuries who took up their cross to really "forsake all" (Luke 14:33) and put their lives in His hands, put the Devil to rout and win the world for Him?
It's ended up happening that I've done a lot of traveling in the last 20 months or so. And it looks like that that may continue for a while more. It's all been for the Lord's work but in my travels, I do look around. How are people doing? How is the body of Christ? Is it growing or diminishing? Bold or defeated?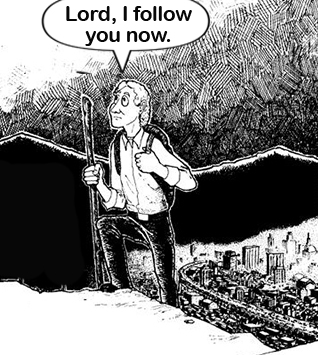 Moving forward or sliding back into the morass of humanity and the mire of the multitude?
One of the more encouraging things I've seen is to have met some teenagers, some in South Africa and others in northern Germany, who give the impression of being very sold out and committed to the Lord. I feel I've seen in some of them the vision and commitment to Christian service that is essential to happen in every generation if the Lord is to continue to have, not just sheep, but shepherds, servants, true followers and disciples in each generation.
It's a big subject and maybe there will be more the Lord lays on my heart about this. But if there is anyone out there, my age or one or even two generations younger, and you're feeling the Lord's service may be His will in your life, I can tell you plainly that I have utterly no regrets about living for Him as a missionary and disciple for closing on 50 years now. If you feel a call on your life to serve Him, I greatly, greatly encouraging to follow that calling.