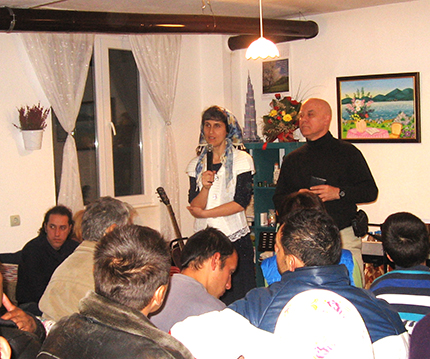 Of the three countries I have been in recently, the one where there's been the most to do in the way of teaching and ministering has been in Bulgaria. So I think it would be interesting for many of you if I shared more of the main thing I was doing there and also include some of the photos from those times.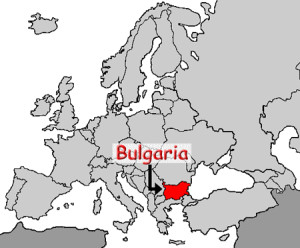 As I've mentioned elsewhere, I first heard from my friend Vaska when she wrote me over a year ago, after she began viewing my videos on the prophecies of Daniel. Last year I wrote about my contact with her in two articles, "Good News from Bulgaria" and "More Good News from Bulgaria". She also was the one who sent me the story about the former Muslim priest who visited her church and told his about his experience which I wrote about in "Suicide Bomber Sees the Light".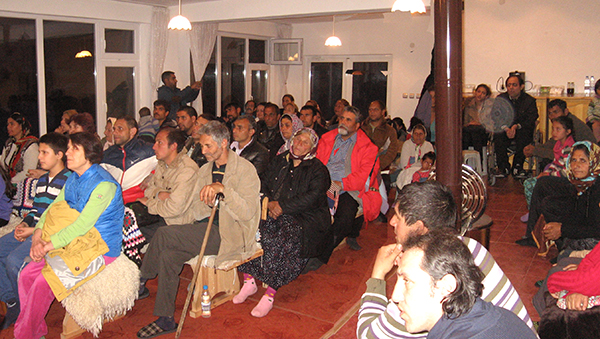 So when I arrived at the little church in the small town in southern Bulgaria where Vaska and her friends have their base, it was already a little familiar to me. The first night I felt led to just share my life story of how I went from being an atheist to becoming a Christian. It seems like the apostle Paul, in his journeys, often started his ministry in an area by just sharing the conversion he had experienced.
Of course a big thing with these new Bulgarian friends was the vast difference in culture, background and nationality between them and me. So one of the first things I did was to let them know that in the Lord's eyes, He sees us as one in Him, brothers and sisters, equals through His working in our lives. That seemed to help that I wasn't trying to come there as some exalted one from a foreign country. Jesus "made himself of no reputation" (Philippians 2:7) and it's important that we do that as well.
And they really took good care of me while I was there, almost too much, ha! I was brought breakfast, lunch and dinner at the little room I stayed in above the church and most of the time it was way more than I could eat. A real specialty of Bulgaria is a salty white cheese and there was a lot of that, as well as olives, fried chicken, fresh vegetables and lots of fruit. The church was within site of the mountains of northern Greece and many of the locals in the church go to Greece in the summer to work in the harvests.
Another thing that impressed me was how Vaska worked with the local pastors in the towns in the area. I met at least a half dozen of these men and it was clear that they all really were appreciative of her ministry to them and to their people. Vaska is a good guitar player and singer and she has been working with a very interesting, unusual young man, Avram. Actually, he ended up being the one to do the voice for the audio tract of the first Bulgaria video in the prophecies of Daniel series. In the beginning I was hesitant to have Avram be the voice as I felt he was just too young. But Vaska said his diction in Bulgarian plus his understanding of the material was really good so we ended up going with that.
I guess, in a sense, "running in the background", I was amazed to see how the Lord's Spirit was working in this place, the interaction between Vaska and the ones she ministers to, the mentoring and coaching of some of these ones as they discussed situations and people in the churches, and the time she spent with Avram to help him grow in grace and maturity.
It's seemed to pay off in their communities as there was overall a tranquil atmosphere and cooperation in the places I saw there. Very many of these ones were originally Muslim before becoming Christians. Their towns are mixed between these two religions but there seemed to be little to no open hostility between the two groups that I heard about.
It reminded me of the verse, "The things that you have heard of me among many witnesses, the same commit to faithful men, who shall be able to teach others also." (II Timothy 2:2) This is such an essential part of the vision of those of us who want to see the Lord's work grow and His flocks to prosper, in Bulgaria or anywhere. There has to be training of those who are called to be shepherds and teachers themselves, to be able to take care of the multitudes that so often are coming to Him. Without "labor leaders", you can end up with vast flocks of bleating sheep but no grass roots Christian leadership, trained to feed and guide the flocks into green pastures.
It was a wonderful time. If the Lord leads and provides, I do want to be back there again sometime before real long. I hope this has helped to fill out the view of what was going on there in Bulgaria and also that the pictures included here help as well. And thanks again for your prayers during this time; it went really well. It will be exciting to go back there, Lord willing, to see how things have grown and also to see what were the fruits and results of my visit there. God bless you.