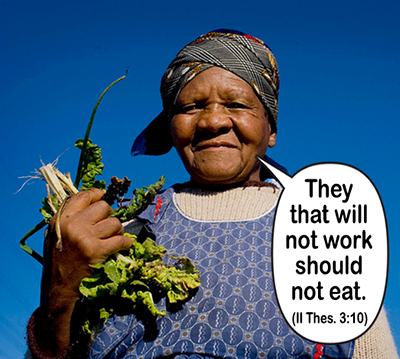 I'm having an amazing time in South Africa, there's a lot to tell you. This post will mainly be about a story I heard of an 80 year old woman who is poor herself but ministers to the poor in one of the "townships" here, as they are called. I think another word that fits for these areas is "shanty towns". But they can be very huge.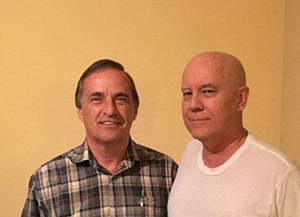 First I'll tell you who told me this. I have a friend here, Josef from Austria, who lives in Johannesburg. He has a similar calling to the friend I told you about who holds HIV seminars in schools here. But Josef and his wife often are "up country", actually spending a lot of time in neighboring Malawi where he has quite a work going in having seminars with local pastors there on basic subjects of Biblical faith and shepherding the flock of God.
When Josef told me about an octogenarian woman he helps in Johannesburg, I was amazed at her faith. Also I was amazed at her vision to not just minister physically to the desperately poor around her, but also to minster to them spiritually as well, sometimes even with a little bit of "tough love." Maybe it's like Jesus was. He certainly was kind, giving and sympathetic, more than any man. But also when it was the time for it, the Lord could be pretty frank and candid with people who needed to hear perhaps surprising truth.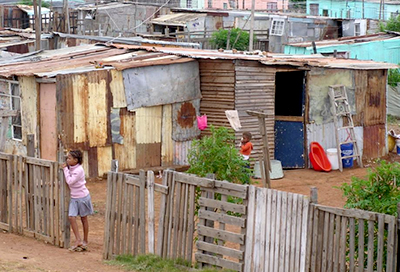 Grandma Helen has been living in squatter camps for the last 20 years but she's also faithfully shared what little she had with those there, as well as sharing her faith in God. Josef said that he and his wife began helping Grandma Helen when she lost the little support she had. They started giving her gospel literature to share as well as of course food they'd received from businesses who donated it.
Josef encouraged Grandma Helen to use Christian literature in her caring and ministering to people. Before she passes out the food parcels, she has a short Bible study and prayer with ones who come for help. After that she passes out the food parcels and the gospel pamphlets with them. She and Josef wanted to teach the people in her area more about the things of God and one idea that came up was to have them memorize Bible verses when they received the food parcel.
But they learned that it was difficult for the people there to memorize Scripture, as it often is for most. So to make it easier for them and to be sure they were taking in the Word, Grandma Helen had them write out the Scripture verse and give it to her before they received a food pack. And if they hadn't done so, they could do it when they got the food pack. As I've written about elsewhere, there's just something powerful about memorizing Scripture. "Lay up His Word in your heart", the Bible says. (Job 22:22)
Josef told Grandma Helen about the verse that says, "They that will not work should not eat" (II Thessalonians 3:10) and that we owed it to the Lord and the people they were giving the food to to teach them the principles of God. So besides some of the most basic tenets of Biblical faith, Grandma Helen also shared with those that came for food that "They that will not work should not eat."
But also she knew that in these camps it's often very difficult to get or hold a job. Basically almost all of them there are unemployed or under employed. So Grandma Helen suggested they could offer their services to others in their community by doing chores, running errands, helping the elderly and those generally worse off than them.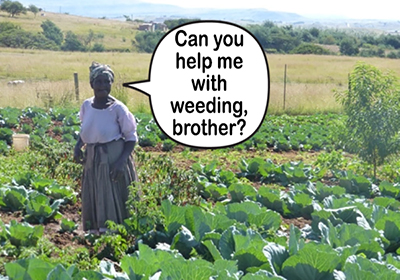 At one point she had a younger man come by who asked for food and she helped him. Then on another day he came by when she was in the garden and she asked him to help with weeding. He said he was too busy. So next time he came around for a food pack, she told him, "Sorry, they that will not work should not eat."
I don't know about you but I find this an amazing and encouraging story. Godly principles completely transcend borders, time, social strata and just everything. Jesus told us, "Freely you have received, freely give." (Matthew 10:8) But often also the Spirit of God calls us to some action, not only as a test but also as a lesson that our soul needs to grow in and be fed spiritually in. Sometimes these things can seem like "hard sayings" but it's actually just God's wise and life-giving love which is actually more needed that simple food. Jesus said, "Man shall not live by bread alone but by every Word that comes from the mouth of God." (Matthew 4:4) Or like wise Job said, "I have esteemed the words of His mouth more than my necessary food." (Job 23:12) It's a lesson everyone needs.
And please do say a word of prayer for dear Grandma Helen. Josef and his wife help her, as they do very many, but sometimes she has to get around in her wheel chair. Also her grandson reads the Bible to her because her eyes are failing. But she continues to minister to these people. Makes you feel that most of us have it pretty good.