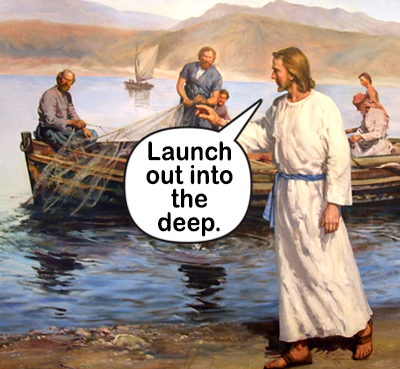 There's just something about going on the initiative to the attack that brings victory. This isn't specifically a Christian teaching but actually it's known and spoken of across many platforms and schools of thought. But certainly for the people of faith, you really have to keep wanting to make progress or you're well on your way to becoming an "old bottle" (Luke 5:37), like Jesus talked about.
A lot of Christians think they should be conservative when actually they really should be progressive. OK, here in the States both of those terms are thickly slathered with extra added meaning. So let's unpack that and break it down. What do you mean by conservative and progressive? If conservative means timid, supine, hesitant, hold-the-fort, old-fashioned and both critical and fearful of change, then I really don't think true Christians should be conservative. If progressive means a desire to go further, to achieve enduring positive progress, to dream dreams that can become the Godly reality of tomorrow, then progressive sounds the best bet to me.
And yes, I certainly know that in the superheated socio-political atmosphere in America now, "conservative" and "progressive" are virtually fighting words. But what saith the Scriptures? Are Christians actually supposed to be ultra conservative and to abhor progress? As the Lord said, "I trow not." (Luke 17:9) In fact I suggest that the propensity to think that we believers are supposed to be "conservative" rather than "progressive" is a serious impinging drag on millions of individuals as well as the body of Christ as a whole.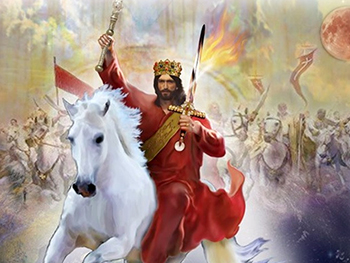 Jesus told His followers to "Launch out into the deep", (Luke 5:4) He didn't tell them to tie up in port. Jesus "went a little further and fell on His face". (Matthew 26:49) Solomon said "Whatsoever your hand finds to do, do it with your might". (Ecclesiastes 9:10) And Jesus said, "You shall love the Lord your God with all your heart and all your soul and all your mind and all your strength." (Mark 12:30) But sadly, the vast majority of Christians today, if they go to church at all, are being taught that God's highest and best is to tip-toe through life, ever watchful of sin lurking at every corner which will suddenly jump out and devour the hapless, virtually defenseless sheep that they are.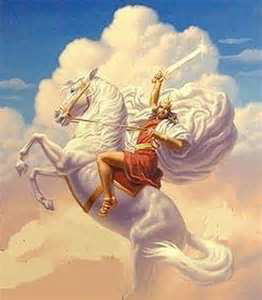 What a travesty. Is that the picture of the Early Church? Is that how Christianity and the knowledge of salvation in Him spread throughout the earth? By holding the fort? This is what I wrote about in "Conquering". Frankly, I believe with all my heart that modern Christianity needs a whole lot more progressives than it does conservatives, a whole lot more gas pedals and fewer brakes.
Where are the soul winners? Where, oh where, are the pastors, imploring and engaging their flocks in the business of personal evangelization? Where are the pastors and church leaders who are actively training their flock in the basics and essentials of salvation itself so that their congregation can turn around and personally win souls in the coming week?
How many people in your church can lead a soul to Jesus? Do they even know they should? Do they personally know the plan of salvation? Or do they think that's just for the preacher or the Apostles of the Book of Acts? How many people in your church can quote John 3:16 and/or know how to find it in the Bible they carry with them at all times and share that verse with those looking for His truth?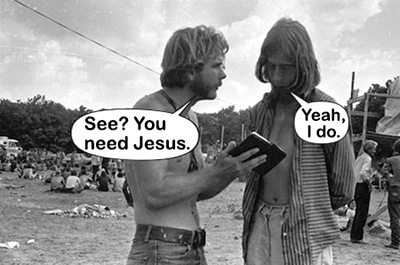 It was 17 year old and 18 year old "Jesus people" who knew their bibles well enough many years ago who showed me on the street the plan of salvation. Verse after verse, John 3:16, Ephesians 2:8 & 9, John 1:12, Revelation 3:20 and others, showing it to me right out of the Bible, that convicted my heart and opened my eyes to the plan of salvation, that changed my life utterly and set me on the path of Christian service for decades now.
Do you know how to do that? If you're a pastor or preacher, do the people of your congregation know how to share verses like that with ones they meet? We are to "be always ready to give an answer of the hope that lies within us." (I Peter 3:15). But for so many, if they know they're supposed to do that at all, it's mostly some sweet little weak squeak rather than any kind of bold, Scripturally educated testifying and opening of the Word to those who are hungering and thirsting after righteousness. Is your pastor or preacher teaching you and others how to witness and win souls? If not, I suggest you ask him why he isn't.
While Christians are blindly drawn into political, secular, worldly hostilities, thinking that this is doing their "conservative" duty to God, the unsaved lost continue to go unreached. How it must break the heart of God that His people are so misled and distant from the original pattern of Christianity that we see in the book of Acts and the Early Church. The "great commission" (see Mark 16:15) was not to be fuddy-duddy, hold-the-fort, Sunday-go-to-meeting "conservatives". Jesus still calls those who will to "launch out into the deep", not to tie up in port, rot away and die. May God have mercy and help us all.