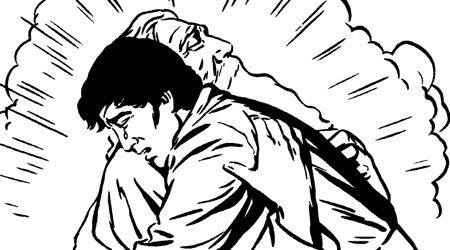 You can hardly think about or talk about a bigger subject than salvation. If there is anything at the heart of the New Testament, it would be the subject of salvation. And yet it is another of the almost endless things that believers disagree on. And I've found, since being back here in the States for the last 4 years or so, that it's a very divisive issue among Christians here.
When the Jesus Movement folks witnessed to me back in the '70's, they could tell I already believed in God because I hitchhiked across Texas to find them and I had a Bible with me. I believed in God, but I didn't know who Jesus was. So they simply asked me, "Are you going to heaven?" I said, "Well, if my good is more than my bad, I will. But if my bad is more than my good, I won't."
I was really surprised when they didn't agree and promptly started sharing the plan of salvation with me, something I'd never heard of before.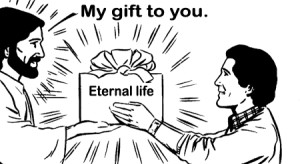 They showed me Ephesians 2:8 & 9. "For by grace are you saved through faith, and that not of yourselves, it is the gift of God, not of works lest any man should boast." They said that salvation was a gift of God, not something that you could work for.
And of course they showed me the most important verse in the Bible, that sums up the whole thing, John 3:16. "For God so loved the world, that He gave His only begotten Son, that whoever believes in Him shall not perish, but have everlasting life." And there were other verses, these folks really knew the Word.
They showed me "all have sinned" (Romans 3:23), and "the wages of sin is death but the gift of God is eternal life through Jesus Christ" (Romans 6:23). One verse that really impacted me was John 1:12. "As many as received Him, to them gave He power to become the sons of God, even to them that believe on His name."
So they told me that I needed to receive Jesus and they showed me Revelation 3:20, another classic clincher,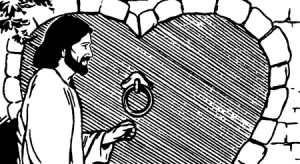 "Behold I stand at the door and knock. If any man hears My voice and opens the door, I will come into him, and will sup with him, and he with Me." They strongly told me that Jesus was knocking at the door of my heart and wanted to come in, that I needed to receive Him. I did and it totally changed my life.
Does everyone have to have the exact same experience as me? Of course not. Many people are brought up in a Christian home and sometimes never remember a time when they didn't believe in the Lord. But it's one heck of a big subject as to whether or not some people are saved and if they are saved, if they can then loose their salvation. Some feel that there are millions of people who go to church and go through the motions but that they are not really saved. I'm sure that there are people who go to church who don't really know what it's about. I've met some who told me that this had happened to them. They said that, after 10 years or more of going to church, they actually got down to business with God and that's when they got saved.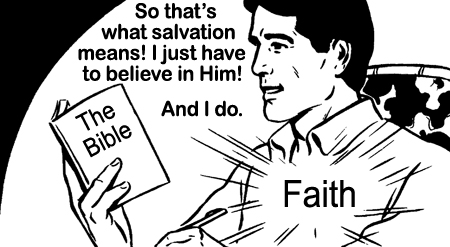 I think a lot of people just don't really know what it's all about and they really waver about their salvation. Some large denominations have become so wishy-washy about their teachings that they hardly even teach or preach salvation anymore. So one thing that all of us who know the Lord and know the Word can do for folks like that is to just go through the plan of salvation with them.
It's not an emotion, it's not a ceremony. It's belief. A great verse about salvation is Romans 10:9 & 10. It's a little complicated but it says it well. "If you shall confess with your mouth the Lord Jesus, and believe in your heart that God has raised Him from the dead, you shall be saved. For with the heart man believes to righteousness. And with the mouth confession is made unto salvation."
Do they believe that God raised Jesus from the dead? Do they say that? Then according to that verse they are saved. Paul said to his jailors, "Believe on the Lord Jesus Christ, and you shall be saved, and your house." (Acts 16:31) So often with these things, the Bible time and time again boils it down to faith, belief. That's the essence, the essential of Salvation. But many people don't have the assurance of salvation because no one has ever really gotten down to business with them and showed them His plan from the Word. I think many people are saved through faith in Him. But they just don't know it or are certain of it through the Word.
Whew, big subject. I think I may have to write some more on this. But this is a start.