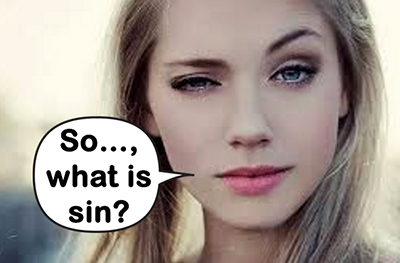 Years ago a dear loved one asked me, "What is sin?" Unfortunately, the question was more of a challenge about if there was even such a thing as sin. And certainly, in our "modern world", the idea of sin is ridiculed and usually rejected out of hand.
But, is there such a thing as sin? Does sin exist? Is it a prevailing force on humanity and each individual? If so, then what is it? Can it be measured, quantified, observed, detected? Admittedly, in this day when the mind of man is supreme in so much of the world, to talk about sin seems antiquated and passé. There's no app for that. No college course and, besides, it can be plain discouraging to even talk about sin. It sounds so religious, like something you heard your grandmother talk about one time.
But, what if? What if sin is actually real, "alive and well", and is daily wrecking destruction across the planet and probably in your own life also? It's insidious. A pervasive, all encompassing phenomenon that prevails in its destruction throughout the planet, yet remains for the most part undedicated and unrecognized.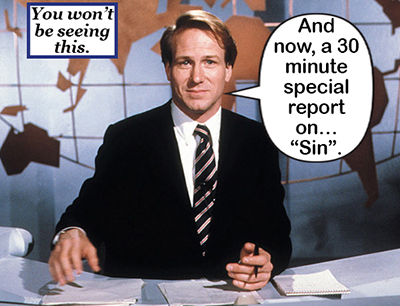 What an enemy sin is and yet only a tiny few even know of its existence while it daily destroys lives, nations, families, dreams and innumerable souls. There will be no speech today at the UN about sin, no 30 minute special on CNN or BBC about sin. In fact, I challenge you to do a search of material found on any major news outlet to see if you can even find once in a day the word "sin".
But why? Well, sin, like love, is one of those things you don't pick up readings on with your Geiger counter or spectro-analysis. Sin works in the realm of the heart and soul. And the mind. But like they say about the devil, one of the devil's main jobs is to convince you that he doesn't exist. The same could be said of sin. One of the more cleaver deceptions of sin is to tell you that sin doesn't exist.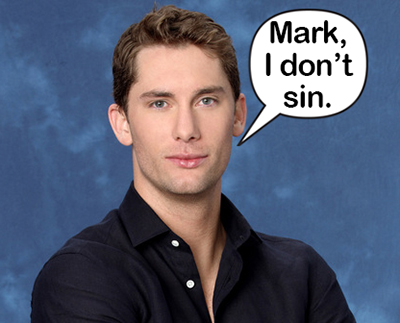 Another loved one many years ago told me, "Mark, I don't sin." This was said very sincerely and I knew what they meant when they said it. To them, sin was robbing banks, murder, adultery, that kind of thing. And this person never was like that. But of course the reality is that sin is a whole lot more than that. That's the kind of thing that some religious teaching will leave you with. Some religionists have conversations like, "Is it a sin to…" and then they bring up some things that are "classic" sins.
It's like the story about the two little old ladies on the front row of the church and the reverend was preaching a hell-fire sermon. "IT'S A SIN TO DRINK WHISKEY!", yelled the reverend. "Amen!", affirmed the two little ladies. "IT'S A SIN TO RUN AROUND ON YOUR WIFE", the reverend went on. "Amen!" shouted the little ladies. The preacher lowered his voice, looked down at the two ladies on the front row and said, "It's a sin to dip snuff!" The two ladies gasped, looked at each other and one said, "He 'dun stopped preaching and gone to talkin'!"
Sin is a lot bigger than the classic sins that most folks know not to partake of. The Bible says, "The thought of foolishness is sin." (Proverbs 24:9) Every time you entertain foolish vain thoughts, that's sin. Maybe that's why King David said, "I hate vain thoughts, but Your law do I love." (Psalm 119:113) Folks, sin is so vast, so overwhelming, so pervasive and so intertwined with our very being that it's the ultimate dominating conqueror of every individual ever born. It's that bad. And I'm not exaggerating.
Well, volumes and encyclopedias probably have been written on the subject of sin and am I going to do the subject justice in one of these short blog posts? I guess, if you don't acknowledge that there's a problem, how will you search for a solution? And sin, as hated and vilified as the concept is in modern times, is as much a scourge of mankind as it has ever been. And my guess is that it will only get worse since virtually everyone is looking for solutions other than the ones God has given us to free us from sin.
How can we be free from sin? That's what Jesus did. When He died on the cross and "God raised Him from the dead" (Acts 13:30), He not only defeated death, He gave us power through Himself to overcome sin. Do I understand it all perfectly? No. But I have experienced it. It is through Jesus, His act of atonement at His crucifixion that any person on earth can have power over sin in their lives.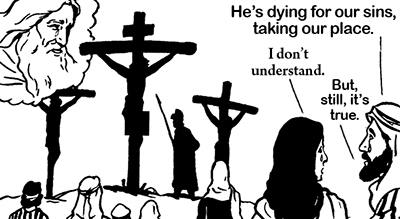 Now the biggest challenge for all the intellectuals, like I sort of used to be, is that this doesn't seem to "make sense." I've told some people before, "You are 18 inches from heaven" and then indicated that I was talking about the distance between their head and their heart. At some point, especially for those with a lot of education and worldly wisdom, they just have to make the jump and "go with their gut", in other words go with their heart. I know this because it's what I had to do and it worked for me.
Sin is the greatest enemy of mankind and every individual. It's running rampant in its destruction across our planet and actually it always has been. But there is an antidote, a solution, a champion and deliverer. And that's Jesus. It doesn't have to make sense. It's just the truth. Give it a try.