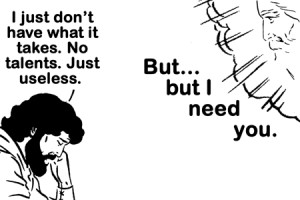 Has anybody every said that to you, "Who do you think you are?" Or maybe, have you ever said that to yourself? It can get kind of deep.
Pride is such a major pitfall of Christians. But on the other hand,  you can be so negative about yourself that you just feel God couldn't possibly use you. These are things our human hearts are privy to, even without any assistance from the Devil.
So an equally dangerous pitfall can be a misplaced self-abasement. Basically, if we get our eyes on ourselves, it is almost hopeless. Like the old song by Tennessee Ernie Ford said, "If the right one don't get you, the left one will." If one sin doesn't get you, sometimes it seems another one will.
But of course, things are not hopeless at all. That's why the Bible says, "Looking unto Jesus, the author and finisher of our faith." (Hebrews 12:2) It doesn't say, "Looking unto ourselves…" That's why prayer, immersing ourselves in God's Word, being busy and active in obeying what He's told us to do, and just mostly forgetting ourselves is so essential.
I think it was the famous blind song writer, Fanny Crosby, who said, "There is joy in self-forgetfulness." Boy, is that true. But there's more to it than that. Once we get our eyes off ourselves, either how great we are or how terribly we are, we find that God Himself has a plan and an agenda. And He's wanting to get in contact with us about it.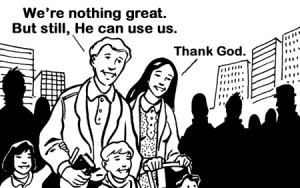 An example of this can be found in these verses from Matthew 9:36 through 38. It says, "But when He (Jesus) saw the multitude, He was moved with compassion upon them, because they fainted and were scattered abroad, as sheep having no shepherd. Then He said to His disciples, 'The harvest is truly plenteous but the laborers are few. Pray therefore the Lord of the harvest that He will send forth laborers into the harvest.'"
We so easily keep our eyes on ourselves. But it's like Jesus said in another place, "Lift up your eyes and look on the fields, for they are white already to harvest." (John 4:35) And He wasn't talking about barley and wheat fields either. He was talking about the vast harvest of souls who long to be part of the Kingdom of God.
When we begin to take heed to God's Word, we find that…He needs us. Not just to pray, not just to go to church, not just to be good citizens and vote for the right political party. He needs us desperately in the work that He commissioned His disciples to do: to witness, win souls and take care of the results.
"But who am I?! I can't do that!!  I don't have the gifts!! I haven't been to the Dallas Theological Seminary! I might say something wrong!"  Etc, etc, etc.
And some of this might not be misplaced. True humility is what the Lord wants. But so often, other things enter into the mix and just hinder the calling of God in our lives. A much better response is what's found in Isaiah,  "And the Lord said, 'Who will go for us and who shall we send?' And I said, 'Here am I Lord, send me.'" (Isaiah 6:8)
Would to God that more people of the Lord would respond like that! If more would respond like that, then you wouldn't have verses like Jeremiah 8:20, "The summer is past, the harvest is ended, and we are not saved." Why were they not saved? Because no one shared the message of salvation with them? Because no one "went out into the highways and hedges and compelled them to come in"? (Luke 14:23)
But so often for sincere Christians, their hesitancy to answers God's call and obey what the Spirit is leading them to do can come back to condemnation and misplaced self abasement. They think they're not worthy. They think they don't have enough gifts. They doubt that it's even God's Spirit calling them. They have such a "humble" view of themselves that it's morphed over into their heart condemning them and belittling them.
So many of God's greats in the Bible were just little people who did what God told them to do. Jesus said of one woman, "She has done what she could." (Mark 14:8)
That's what we each should be asking ourselves each day. "Have I done what I could? Am I obeying what I know God personally wants me to do? Am I resisting the voice of the Lord in some area of my life? Is there some step forward in service and God's calling that He's drawing me towards that I'm hesitating in?"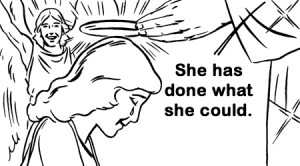 It's not a question of talents or abilities; it's just a question of yeildedness to His voice, both the voice we hear in our hearts personally and the voice that speaks to us through reading His Word. "He gives the Holy Spirit to them that obey Him." (Acts 5:32). He can "lead us into all truth" (John 16:23) and also into opportunities of service and fruitfulness in Him that are far more than we can imagine. God help us all to obey and follow His Words and His calls. "Today, if you will hear His voice, harden not your heart." (Psalms 95:8)