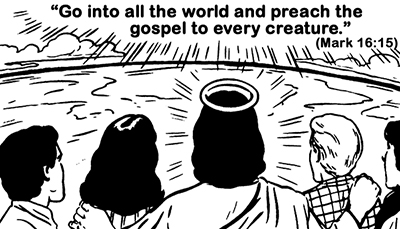 If you don't even know you're supposed to do something, how can you be taught to do it? So in talking about witnessing, first a foundation should be laid from the Word that this is something we're supposed to do.
Because, folks, let me tell 'ya, the Devil does NOT want you to be a witness. He may not have been able to stop you from being a Christian. But if he can corral you into being a fruitless, impotent, timid, unknowledgeable Christian, then he'll be pretty satisfied with the results. And let's face it. That's the condition of many Christians today.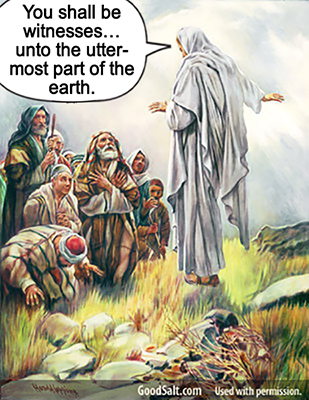 Is it their fault? The fault of their pastors? Their denominations? Let's don't go there. Let's dig into the foundation of Christ's teaching to His disciples about witnessing and see what He taught. I may share some key Bible verses from Jesus on this subject and perhaps some of the classic examples of excuses that our own lazy, indolent hearts will come up with to block the conviction of the Holy Spirit.
After His resurrection Jesus told His disciples, "You shall receive power after that the Holy Ghost is come upon you and you shall be witnesses unto me, both in Jerusalem, …and unto the uttermost parts of the earth." (Acts 1:8)
But Mark…
That was for back then. My pastor never taught us that. My denomination doesn't believe in that. Who am I, Mark? We're not Peter, James and John, Mark! That was for them back then! That's only for the very called and special people, not just for us all. I don't know how to witness. What if they ask me a question and I don't know the answer? Etc, etc.
Sound familiar? Let's get back to Jesus. In John 15, He said, "I am the vine, you are the branches. He that abides in Me and I in Him, the same shall bring forth much fruit." (John 15:5)
Mark! That's the fruit of the Spirit! Love, joy and peace, Mark! I do that already, Mark.
Well, no, Jesus wasn't talking about the fruit of the Spirit there; you're mixing that up with what Paul talked about in Galatians 3.
The fruit of an apple tree is apples; you're "fruit" is your kids and the fruit of a Christian is another Christian. "Herein is my Father glorified that you bear much fruit, so shall you be My disciples", Jesus said. (John 15:8) There are many verses like this in the gospels. But another one that couldn't be plainer is when Jesus said to His disciples, "Go into all the world and preach the gospel to every creature." (Mark 16:15)
But Mark…
We aren't all preachers. You have to go to seminary to be able to do that and it takes years of knowledge and experiences to be ready to preach. That's what we pay the preacher for, Mark. To preach. So if we feel like it and something really out of the ordinary happens, we might take some friend to church and the preacher will witness to them. That's not our job, Mark
Admittedly that's how it is in most places nowadays. But from the beginning, these things were not so. Christianity didn't spread like wildfire throughout the world in the first centuries after Christ by it being limited to only a tiny handful being allowed to share it with others. Everybody witnessed.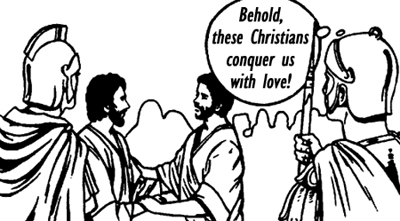 They were so enraptured with the love of God and excited about their salvation that it just gushed out of them and soon most of the known world of that day knew the truth of Jesus. Places like southern Scotland, the east coast of India and inland China had Christian communities within the first 100 years after the resurrection. Those folks spread the Word.
But today? Well, there's a little. Some are doing it. But the vast majority are inoculated against sharing their faith with the unsaved. They don't even know they should. They'll appropriate John 3:16 to themselves, the 23td Psalm and other comforting verses that they can rest their salvation and their relationship with the Lord on. But the challenges and commandments of the Lord to the first disciples to make it their commission, calling and direct orders from Him to go into all the world and preach the gospel to every creation, nope, that bunch of verses is not something they're taught to take personally.
It doesn't matter whose fault it is. It's just vital to individuals and the body of Christ in these times that Christians take that charge and commission from the Lord back then to His disciples of those times just as seriously as we do the promises of salvation and eternal life.
This is not some heavy yoke that's designed to take away your joy and burden you with some dreadful responsibility. I can tell you that some of the greatest joys I've ever experienced have been in witnessing and wining souls into His kingdom.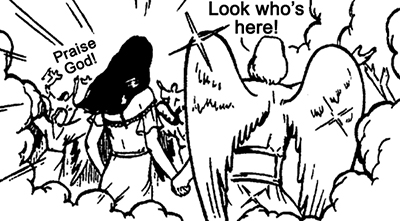 "There's joy in the presence of the angels of God over one sinner that repents." (Luke 15:10) And for those who are involved with His sowing and harvest, He brings a rejoicing as well as a strengthening to your heart that is mostly unknown by non-witnessing Christians. Hopefully I'll write more soon, not only about our responsibility to witness but also some about how to go about it.