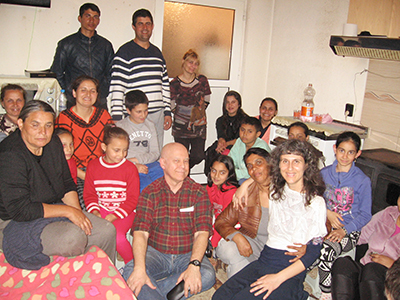 I'm in Bulgaria right now, such an interesting place and I'm having amazing experiences. I've been working with friends during the day to get a Bulgarian version of the first video I did on my series of videos on the prophecies of Daniel. Then at night I've been speaking at small churches and cell groups in this area.
For example, Saturday night my hosts said we would be going to a "radical Muslim" town to speak in a church there. I didn't know what to expect. Well, for one, the "church" turned out to be someone's medium sized kitchen. But "the church was packed", or in this case the kitchen was packed. The picture above shows about half the people there. But they were all hungry and sincere Christians within this Muslim district who'd come to hear what I had to share with them.
That morning I had felt I could work on finalizing a blog post. But it just wasn't flowing. One big thing I'm finding here is that prayer is a vital essential in what I'm doing. On Friday we had worked much of the day on the recording of the Bulgarian audio for the video. But it was so much effort that at night, when it was time to teach and share testimonies with the 70 or so that came to the church, I could feel I was somewhat drained and had not taken enough time in prayer earlier to be fully strengthened in the Lord for the evening's activity. I still went ahead but I could just feel that it was not as full and flowing as it could have been and should have been, if I'd take more time alone with the Lord and not tried to cram so much into the day in the way of work.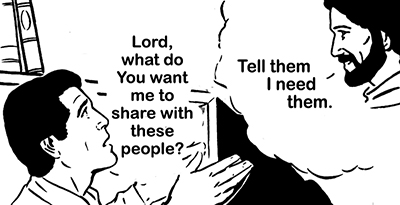 So Saturday morning I knew I really needed to come to the Lord in desperation for His strength and even to try to get something from Him that would be in some way a message or theme that would be what He'd want me to share with these ones. Also at that time I sent a prayer request out to some of you to please pray for me to have wisdom and strength for this opportunity here.
Then, after that time of desperate prayer, a somewhat surprising thing happened. I felt led to just go to my computer and I wrote up something that wasn't really a prophecy, in the literal sense of the word. But it was something I felt the Lord definitely laid on my heart right then, as a result of my earnest prayer to be a better channel and witness for Him in this situation. I'll try to write that up into a blog article soon but the main idea was that "God needs us". This is the message I shared with the Christians in the Muslim town that I visited Saturday night.
Now this morning also, as I nearly plunged back into a routine that usually worked ok for me back at my home base, the Lord instead led me to not start work but to get back on the wall of prayer. In this situation, it seems that I may be "doing" less each day. But it's important to really spend quality time alone with the Lord, pouring out my heart to Him that He will help me to "raise the floor" so to speak and to be higher in the Spirit so that what's being done will be from a time that's really been brought before Him first.
So…, work or prayer? Of course both are needed. But in my case in this situation, spending more time in prayer has evidently become an essential for me if I'm to be in His highest will here and to be effective and fruitful in this time. A real lesson for me, and I thought to pass it on to you.
And I should mention that the place I am working from now is the same one that I wrote you about a year ago in "Good News from Bulgaria" and "More Good News from Bulgaria". You can click on those links to get some background to how I ended up visiting these friends here.