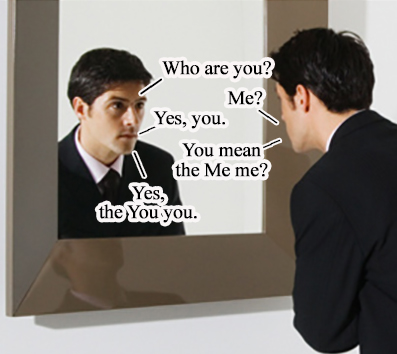 Here's a question for you: are things simple or complicated? If your answer is "Yes", I think you're right. Take something as simple as "Who are you?" Is there a simple answer to that? Of course, "I am me." But then it gets complicated. And a lot of us can really get almost confused at times about this.
I thought about this around 2:30 AM today after waking up for the first time in South Africa. Jet lag often really hits me the most traveling east. And after two nights in a row of trying to sleep on a plane, I was very ready for 9 hours of deep sleep. But it was not to be. My body just didn't cooperated tonight, as often happens at the beginning of a trip flying east from America.
So was "I" tired? Well, yes and no. "My flesh" was tired but actually my spirit was pretty keyed up. And I was thinking about how that works. One thing I can tell you, I never in any way would I have looked at things this way without having come to the Lord years ago.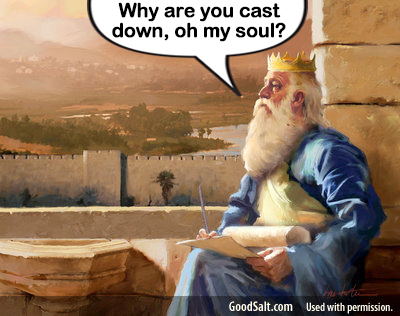 "My flesh" and "my spirit", what kind of talk is that? The answer is, truth be known, there's you and then there's You-you. You are a lot more than just you. Don't believe me? Think about this. King David said in prayer, "Why are you cast down, oh my soul, why are you disquieted within me?"  (Psalm 42:11) Was David getting a little schizoid there? How about this: "My heart and my flesh faileth, but God is the strength of my life and my portion forever" (Psalm 73:26). Or, one of my favorites , Solomon said "Keep your heart with all diligence for out of it are the issues of life." (Proverbs 4:23)
So what's with all this chopping yourself up into little pieces? Your heart, your flesh, your spirit, your mind, your soul, and all that? That's what I mean, there's a lot that goes into "You", under the hood, as they say. There are actually a lot of moving parts and if I had to tell you which you You-you really is, I'm not sure I could tell you. Of course they are all part of you; for the most part they somewhat intermesh with each other and often can work pretty well together. But not always.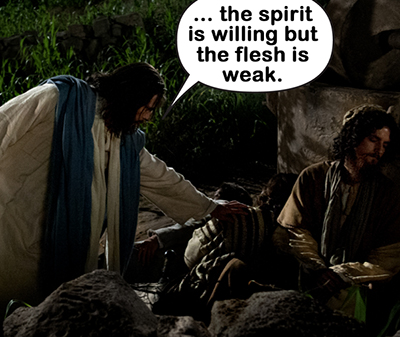 One of many examples of this can be found in what Jesus told His disciples on the night He was betrayed, in the Garden of Gethsemane. He said to His disciples who were nodding off to sleep, "Watch and pray that you enter not into temptation, the spirit indeed is willing but the flesh is weak." (Matthew 26:41) What an incredibly deep and wise, yet utterly simple way the Lord described that. And that verse could be seen to fit with how things are for me tonight or now close to dawn. My flesh is feeling tired right now. But my flesh is a segment of my "me" that currently is working in such a way that my spirit (which I think is closer to the real "me") is having more dominance over my "me" right now than my flesh is. Got that?
And I'm just so thankful for the light of the truth of God's Word that illuminates all these kinds of things and has been "a lamp unto my feet and a light unto my path" (Psalm 119:105) for all my adult life. Of course our flesh, our body and all that it involves is definitely a part of "me" and you as well. But so many folks who don't know the Lord (or don't know Him and His Word the way they should) are often not able to make a difference between their flesh and their selves. Or perhaps more dangerously, they're in the habit of being led about by their flesh more often than their spirit and/or the Spirit of the Lord.
"Oh, I'm tired." "I can't right now, I'm hungry." And on and on it can go. Well, we do need to take care of the needs of the flesh; I'm not advocating some aesthetic appeal to self mortification. On the other hand, if you're going to do anything for the Lord in this life or almost anything of value at all, you just can't put "the flesh" first. And some folks have learned you can't even put "me" first. Jesus surely knew that.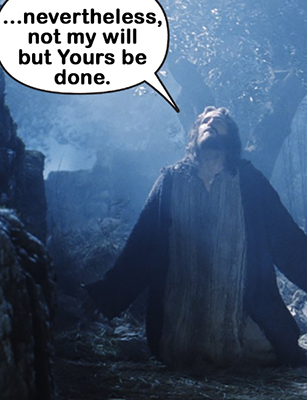 That same night in the Garden of Gethsemane, when He told His disciples to watch and pray, He also prayed to His Father in heaven, "If You be willing, let this cup pass from me. Nevertheless, not my will but Yours be done." He knew He was just hours away from His passion, His suffering on the cross of Calvary and the enormity of what was just ahead moved Jesus to pray that prayer to His Father. But Jesus put his own self and even his will aside and stayed in obedience and submission to the will of God, even though basically so much of everything else within Him was moved with the emotions He had as a human of what was about to happen.
Maybe you know all of this already. But perhaps it's a reminder of how "you" can function a lot better when you don't let every little moving part of yourself claim to be supreme. "Oh, I'm in love!" "Oh, I'm hungry!" "Oh, I'm angry!" Could be. But if you let any of those things grab the reins of your soul and your life, they can really take you very quickly into some bad decisions if you don't watch out.
Jesus said, "What shall it profit a man if he shall gain the whole world and loose his own soul? Or what shall a man give in exchange for his soul?" (Mark 8:36 & 37) I guess it all boils down to the fact that we are, were and will continue to be lost, hopeless nincompoops without, not only the salvation of the Lord, but His continual close guiding of our lives pretty much every moment of every day. "Looking unto Jesus, the author and finisher of our faith, who for the joy that was set before Him, endured the cross, despising the shame, and is set down at the right hand of the throne of God." (Hebrews 12:2)